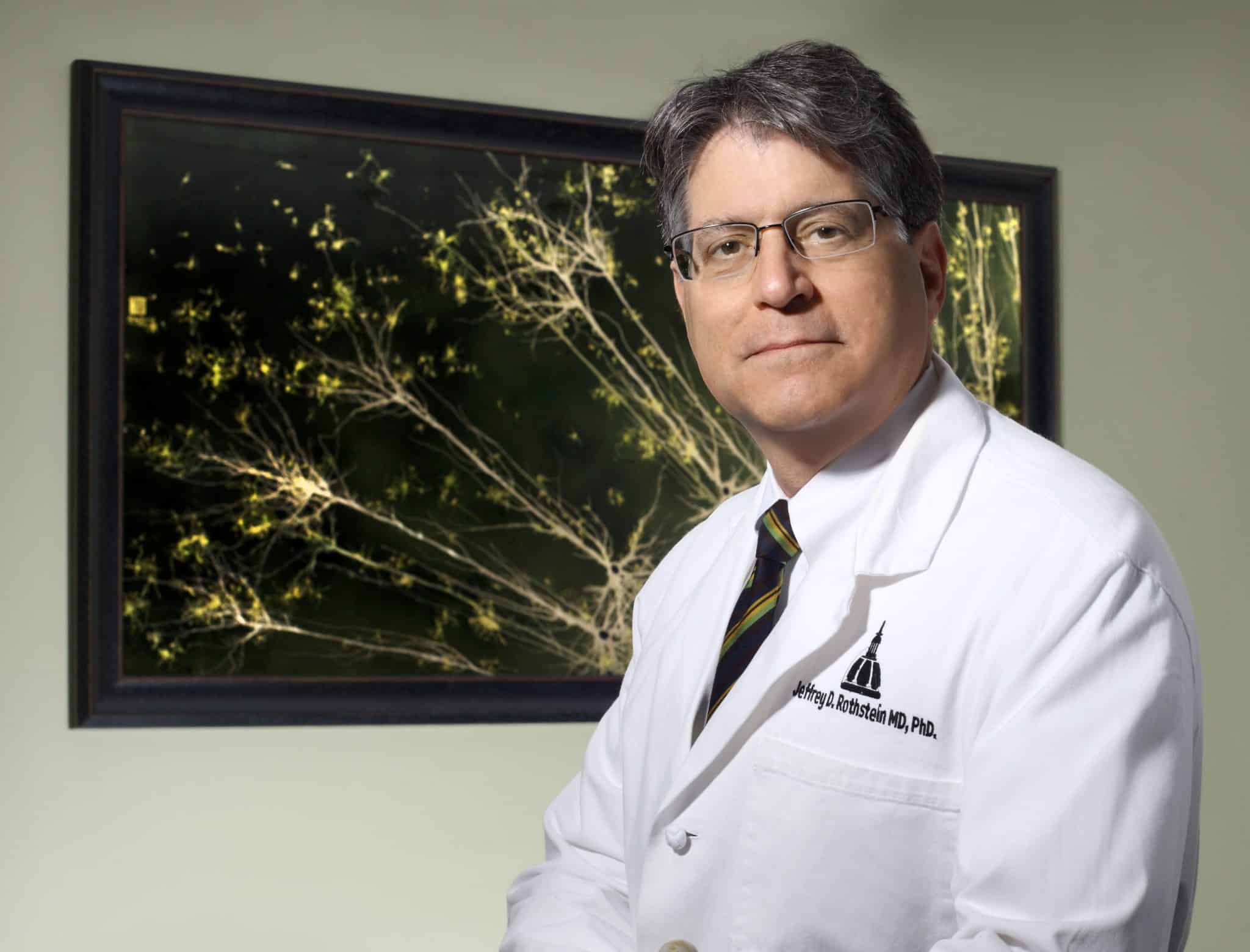 Jeffrey D. Rothstein, MD, PhD
Dr. Rothstein's career at Johns Hopkins began with his residency in neurology at Johns Hopkins Hospital in 1986, which included a year as chief resident from 1988-89. After serving as visiting faculty in pharmacology at Georgetown University School of Medicine from 1989 to 1993, Dr. Rothstein returned to Hopkins to complete the Neuromuscular Medicine Clinical Fellowship Program in 1993. He then joined the faculty of the Department of Neurology, becoming vice chairman of the department in 1998 and professor of neurology in 2000.
In 2000, Dr. Rothstein founded the Robert Packard Center for ALS Research at Johns Hopkins and began serving as its director. In 2008, he became co-director of the Brain Science Institute (BSI) at Johns Hopkins and director of the BSI Neurotranslation Program. In 2004, he co-founded Ruxton Pharmaceuticals, Inc. (renamed Psyadon Pharmaceuticals in 2008).
Education and Training
AB (Neuroscience), Colgate University, Hamilton, NY, 1977
MA (Neurochemistry-Biopsychology), University of Chicago, Chicago, IL, 1979
PhD (Physiology and Biophysics-Neurochemistry), University of Illinois Health Services Center, Chicago, IL,
MD, University of Illinois-College of Medicine, Chicago, IL, 1985
Intern, University of North Carolina Memorial Hospital, Chapel Hill, NC, 1985-1986
Resident (Department of Neurology), Johns Hopkins Hospital 1986-1989
Chief Resident (Department of Neurology), Johns Hopkins Hospital, Baltimore, MD, 1988-1989
Neuronmuscular Fellowship, Johns Hopkins Hospital, Baltimore, MD, 1993
Certificate in Business Management and Leadership in Life Sciences, Johns Hopkins University School of Professional Studies, Baltimore, MD, 2006
Accomplishments, Recognition, and Service
In addition to directing the MDA/ALS Clinic at Johns Hopkins— one of the largest ALS clinics in the United States–in 2000, Dr. Rothstein founded the Robert Packard Center for ALS Research at Johns Hopkins and began serving as its medical director. The Packard Center is the first multi-institutional, multi-national collaborative academic organization devoted toward understanding the cause of ALS and translating the information into new drug and cell-based therapies. It uses an aggressive model of research funding among leading young and senior researchers, in which support is based on performance expectations and mandatory collaboration. Research funded by the Center has lead to the unprecedented generation of new animal models of the disease and new clinical therapeutic targets.
Dr. Rothstein is the recipient of numerous professional awards including: the Clinical Investigator Development Award, NINDS (1989–1994); the Sheila Essey Award for ALS Research (American Academy of Neurology) (1997); the Lois Pope LIFE Award, University of Miami (2001); the Tony Diamond Award for ALS Research ( 2001); the Play for Life Achievement Award for ALS Research (2003); and the Johns Hopkins Medical School Alumni Award (2007).
He has authored or co-authored nearly 200 articles and nearly 30 book chapters. He serves on the editorial board of four scientific journals including the Journal of Biological Chemistry, Amyotrophic Lateral Sclerosis, the Journal of Molecular Neuroscience, and Stem Cells. A member of numerous national neurology, neurochemistry and neuroscience organizations, he became an elected member of the American Neurological Association in 1994.
Dr. Rothstein maintains a long list of administrative appointments, including, among many others, acting as a member of the Board of Directors for the National ALS Research Group (since 2000), serving as Executive Committee Officer and Scientific Adviser to the NorthEast ALS Consortium (since 1999), and acting as Vice President (First) of the American Neurological Association (since 2006).
Research Interests
Dr. Rothstein focuses on neuromuscular diseases, with a particular concentration on Amyotrophic Lateral Sclerosis (ALS) and on roles of glutamate transporters in neurodegenerative disease. His laboratory is funded through the National Institutes of Health, the Muscular Dystrophy Association, the ALS Association, and Project A.L.S. He has been the principal and/or local investigator in eight national and international trials in ALS. Dr. Rothstein has been granted 2 patents and currently has 14 patents under review.