Christine Vande Velde Joins Packard Center team as new Science Director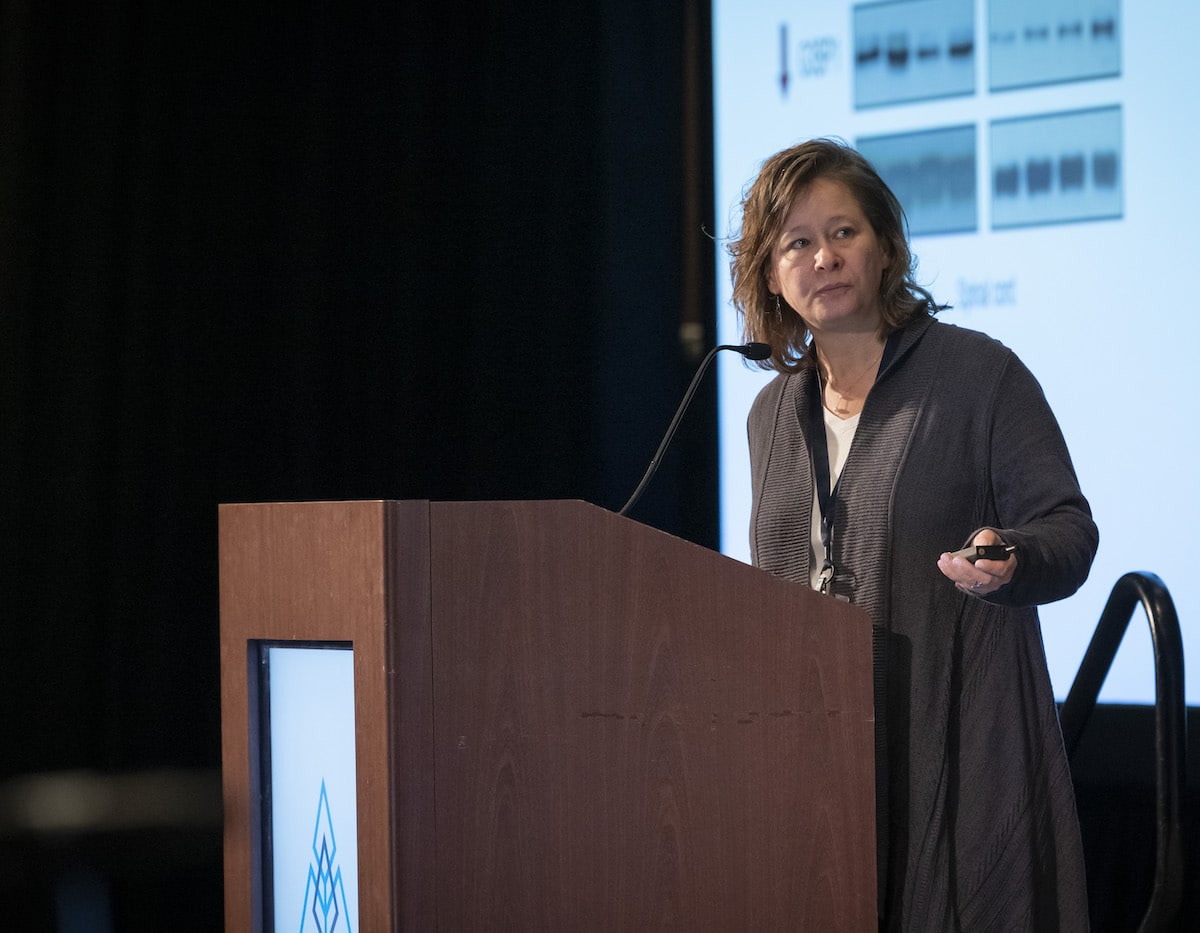 Earlier this year, the Packard Center welcomed its new Scientific Director, Dr. Christine Vande Velde. Dr. Vande Velde is a biochemist and cell biologist at the University of Montreal studying how RNA-binding proteins like TDP-43 contribute to ALS. She completed her postdoctoral studies in a Packard-funded lab and is excited to join the Packard team in her new role.
"The Packard Center has always been known for amazing scientists and outstanding science. I see an opportunity to foster new ideas, bring in new researchers, and provide mentoring to the younger generation," Vande Velde says.
Vande Velde began her career not in neuroscience but in cancer biology and biochemistry at the University of Manitoba. Most cells divide a certain number of times and then die. Cancer cells divide indefinitely and spread throughout the body. Vande Velde wanted to know the molecular mechanisms that enabled cancer cells to escape death.
For her postdoc, she knew she wanted to look at the opposite: cells that should survive but don't. Vande Velde had an interest in neurodegenerative diseases, but ALS caught her attention because cell death was restricted to motor neurons, which would help narrow down the potential answers. She also wanted to learn how to work with mouse models, which ALS also had. So Vande Velde moved from Winnipeg to Don Cleveland's lab at the University of California, San Diego. During her time at one of the world's premier ALS research labs, she worked on projects related to ALS2 and SOD1 genes, both focused on understanding their connections to ALS.
As she started her own lab at the University of Montreal in 2007, Vande Velde continued working on ALS but shifted her focus to TDP-43, which researchers had recently connected to ALS. Years of work by Packard scientists and others around the world have shown that TDP-43 is an RNA-binding protein that helps ensure the proper splicing of RNA into the final form that is translated into protein. It has other jobs, too, including in the cell's stress response and the stabilization of other important RNAs including those that are essential to the formation of stress granules, which form when a cell is under stress from environmental insults or reduced nutrients.
"The possible disruption of stress granule formation, due to TDP-43 being unable to perform its normal functions, can render motor neurons more vulnerable. This is an interesting mechanism because it sits at the interface between genetics and environment," Vande Velde says.
By understanding what happens when normal TDP-43 function is lost, something common to 97% of ALS cases, Vande Velde hopes to exploit these mechanisms and help develop an ALS therapeutic. It's work that requires extensive collaboration, which her involvement in the global research community and the Packard Center has enabled. And it's this same spirit of collaboration and camaraderie that she wants to help inspire in the next generation of ALS researchers.
To Vande Velde, collaboration and mentoring is crucial to understanding ALS. In her role as Scientific Director, then, Vande Velde sees an opportunity not only to help advance our collective understanding about ALS, thus moving us closer to tangible therapies and biomarkers, but also to solidify future discovery by facilitating key collaborations and interactions amongst the researchers that have devoted their careers to ALS.
"One of the strengths of the Packard Center is the sheer technical and scientific skill that exists within this community. I want to empower the community to use that the hive mind, tap into it, and get us to a future where ALS patients and families have a whole host of meaningful therapeutic options, perhaps even prevent disease from starting," she says.